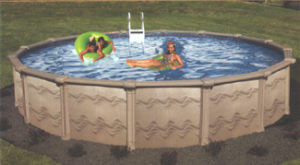 Create a new backyard with an above ground pool from EZ Aqua.
Round or Oval, EZ Aqua installs the Montauk line from Delair.
ROUND:
• Top Rail: 8″
• Uprights: 7 1/4″ with decorative base
• Steel: Hot-dipped galvanized multi-stage coated and TUFF KOTE protected
• Coping Cover: Decorative Resin Cover
• Bead Receiver: Standard
TUFF KOTE:
• Superior Durability
• Strong resistence to chemicals, fading and dulling
• Sheds dirt and water to reduce maintenance
These pools have:
• 25 year warranty with Wide Mouth skimmer
• 52′ Tall with 7″ Top Seat,
• 5 1/2″ Uprights- All Oval Pools are Buttress Free
• All with overlap Blue Liners.
• All pools come with: Sand Filter & pump, Little shark Cleaner, Vac pool and acc. kit, A Frame Ladder and chemical kit.
Pricing:
Round
15′ Round $1,983.00
18′ Round $2,117.89
21′ Round $2,289.55
24′ Round $2,410.00
27′ Round $3,205.88
Oval
12′ x 24′ $2,563.79
15′ x 24′ $3,133.66
24′ Round $2,410.00