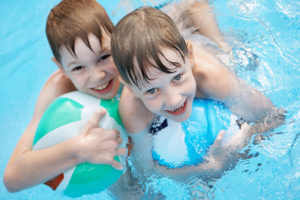 Swimming pools, spas, and hot tubs are fantastic sources for your family's enjoyment. Your backyard pool is an opportunity to spend time with friends and family. While it is a source for fun, it is also a place to be viligent about possible dangers.
Here are some tips to help make your pool safer:
ENTERTAINING
Plan ahead to prevent accidents and injuries.
Keep electrical appliances a significant distance from the pool.
Don't use extension cords. Use a ground fault circuit interrupter (GFCI) on any appliance or electrical device that is used poolside.
Use of alcohol or drugs does not mix with pool activities.
Supervise the use of good pool games and toys.
Prohibit horseplay, especially pushing someone into the pool.
You are responsible during poolside entertaining.
Use good judgment to protect yourself, your family and guests.
DIVING DO(s)
Be aware of the shape of the pool bottom and the water depth before diving or sliding headfirst.
Avoid submerged obstacles or other swimmers.
Dive straight ahead – not off the side of a board.
Steer up with your hands.
Keep arms in front of your with your head and hands up.
Practice before you dive.
Test the board before using.
When you dive down, you should steer up.
DIVING DO NOT(s)
Drink and dive.
Don't fool around on equipment.
Use the diving board as a trampoline.
Do a back dive; backyard pools are not built for this.
Try fancy dives; keep it simple.
Dive or slide through objects such as inner tubes.
Dive into an above-ground pool.
Dive into a pool not meeting a "diving pool" standard.
Dive or slide headfirst in the shallow part of the pool.
Dive across the narrow part of pools.
Run and dive.
Swim or dive alone.
Dive into unfamiliar bodies of water.
SUPERVISION
Never swim alone or allow others to swim alone.
Adult supervision is a key element in getting the safest enjoyment from your pool.
Never let children under the age of 14 swim unsupervised.
Continuous supervision of infants and children is critical – all the time.
You are responsibile for supervising and enforcing pool rules.
Set pool rules and stick by them.
Don't allow running around the pool
Insist on safe diving and proper use of diving boards, slides and other water toys.
Pool rules should be clearly communicated and understood by all persons – children or adults.
SWIMMING ABILITY
If you're uncomfortable with someone's swimming abilities, make sure they stay in the shallow water area and watch them closely.
Pay special attention to educating young children and non-swimmers about important safety precautions.
Always find out whether or not guests can swim. Supervise guests who can't swim the way you would a child.
HEADFIRST ENTRY: DIVING AND SLIDING
The chief danger for divers or headfirst sliders is serious spinal injury. Serious spinal injuries can occur even at very slow speeds if the head strikes firmly against the pool bottom or side. Any diving board, rock, platform or slide should be inspected prior to use to affirm that its installation conforms to applicable industry standards and government regulations.
MEDICAL PRECAUTIONS
Keep these basic safety items by the pool at all times
Strongly consider having at least one family member trained in basic CPR.
Keep a wireless telephone near, but not too close, to the pool.
Shepherd's crook or long-handled hook
Life preserver
First aid kit including written instructions on how to administer CPR
MORE TIPS
Ladders, Steps and Handrails – Make sure they have safe entry and safe exit methods. They should be in both ends of the pool and two sides of the hot tub or spa.
Drains, Suction Fittings, and Jets – Current grates and covers help prevent body or hair entrapment.
Make sure that drain covers meet the ANSI/ASME A112.19.8M standard.
Safety doors should be installed in all pool cleaner wall suction lines. Pools, spas, or hot tubs with drain covers that are broken, missing, or not adequately secured should not be used until the proper replacement has been installed.
Drowning Prevention – Install and routinely inspect fences, self-closing and latching gates, baby barrier fences, and alarms.
Water Clarity – Clear water aids in identifying soakers and swimmers in distress, helps swimmers avoid bumpting into one another and is an indicator that the sanitizer, circulation, and filtration systems are functioning.
Poor water clarity suggests the presence of bacteria and/or algae or nutrients for their growth, and that the circulation and filtration systems may not be working efficiently to remove the contaminants from the water.