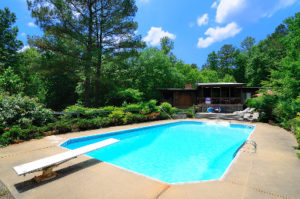 There are many options for swimming pool decks. The area around your swimming pool should be considered during your planning as much as the EZaqua pool itself.
Consider your whole backyard and not just the pool itself. Hopefully this article will help you when planning your swimming pool deck.
Things to consider during design
Landscaping – leading up to and around the deck
Sun and Lightscaping – areas where/when the sun hits, any shady spots, and the lignts around the deck
Integration with existing patio and walkways
Color coordination, surfacing textures, tile patterns (if any)
Swimming Pool Deck Pricing
The main consideration that drives the price is the material. Poured concrete is the lowest, while hand laid imported tiles are the most expensive.
Here are the swimming pool decking materials in order of cost (lowest to highest)
Finished Concrete
Wood
Composite Wood
Brick Pavers
Floor Tile (outdoor)
Bluestone or Flagstone
Broom Finished Concrete Pool Deck
Similar to a sidewalk this type of pool deck is the easiest and least expensive. To begin, EZaqua will assume a 3 foot apron around the pool, then provide quotes for variations. We can stamp the concrete, stain it and treat it wear. When we stamp the concrete, it will give the decking a nice pattern.
Many of our customers find that concrete pool decks are fairly inexpensive, quick to install and wear well in our climate.
Wood Swimming Pool Decks
Redwood, Cedar, or Mahogany is the "A" list in premium hardwood decks. But with pressure treated pine, you can reduce the overall cost significantly. Remember that keeping the elegant look of a wood deck requires maintenance. Keep it free of mold, graying and splinter free with regular water-proofing, staining and inspection.
Composite Wood Pool Decks
Engineered wood is rapidly growing as an alternative to cut wood for pool decks. Composite wood provides a longer life and less maintenance. For those interested in a more eco-friendly material, composite wood is the answer.
Brick Pavers for Pool Decks
Pavers are made as brick or can be made from concrete. We can give you a wide variety in color and thicknesses.
Depending upon your draining requirements, Brick Pavers can be installed on sand over concrete, or can be set on layered bed of gravel/sand. We will determine and recommend the best solution to meet your needs and budget.
Brick Pavers can wear over time, but are fairly low maintenance. Once every 3 years, we suggest cleaning and sealing the pavers to restore their luster.
Tile Swimming Pool Deck
First we rule out glazed tile – it is too slick when wet. Unglazed tiles can give you a spectacular look to your entire pool and backyard. When we install the tiles, they are placed over a concrete base
Waterproof outdoor grout is used in between the tiles, and sealing is recommended to prevent staining and water penetration.
Stone Pool Decking
Field Stone, Slate, Bluestone or Flagstone, are the more popular natural stones for your swimming pool deck. If you want natural and durable – there is none better. They are naturally slip proof, do not need sealing and always look good.
When you choose Stone Pool Decking from EZaqua, we mortar the stones on top of a bed of concrete. Then fill the joint with mortar. Every 10 years or so, you may need to repoint the grout.